Water and Sewer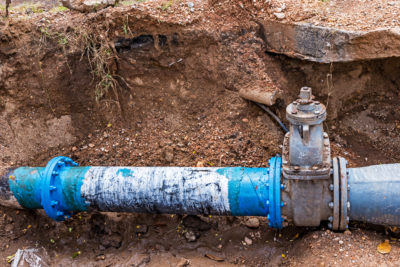 Technological advances have drastically improved the way Water and Sewer Systems are installed, upgraded, maintained and repaired. Enhancements for long neglected pipelines include pipe bursting, spot repair, sliplining and trenchless placement.
 
Trenchless placement by directional drilling (has not been emphasized until recently due to material constraints) has become more prevalent in recent years. Mechanical and Bell Joint Ductile Iron and Bell, Mechanical and Glued joint PVC do not generally lend themselves to placement by directional drilling but advances in the use of polyethylene for water and sewer systems has made directional drilling placement a cost effective alternative to open cut methods of construction. Additionally, new techniques in pressure collection systems have made trenchless placement a preferred method in congested areas. Significant progress has been made in the connection of PE to existing Ductile Iron and PVC systems. Restrained Joint PVC piping were introduced to the trenchless market and are allowing PVC to be utilized where required. This is allowing utilities to using trenchless installation methods and maintaining and repairing these systems utilizing existing methods.
 
Fresh Water Distribution
12″ and under distribution systems utilizing Polyethylene or restrained joint PVC placed in areas of heavy landscaping, pavement, and/or congestion by Infratech Corporation directional drilling are cost effective alternatives to open cut methods of construction.
 
Gray Water
Secondary "gray" or "re-use" water systems are being utilized to reduce pressure on over-burdened treatment plants. Typically these systems are placed in areas where other utilities, including treated water systems exist in industrial parks, residential and other areas of congestion. Infratech solves your installation nightmares in these areas without the need for trench excavation.
 
Pressure Sewer Systems
Pressure Systems are used in areas where gravity systems are either impractical or too costly. Directional Drilling is the most cost effective method of installation for these systems in developed areas. From main line to grinder services into homes, Infratech can serve your installation needs.
 
Gravity Sewer
Gravity Sewer installations are possible with directional drilling, though not with the accuracy of laser aligned conventional installations. Infratech has placed lines within tolerances at much lower cost than conventional methods.
 
Pipeline Insertion/Reaming
Directional Drills can be utilized in upsizing and replacing pipeline in place. Clay and unreinforced concrete are simply reamed out with a new restrained joint PVC or PE line pulled in. Infratech has years of experience in pipe insertion, also sub-aqueous installations.