Environmental Remediation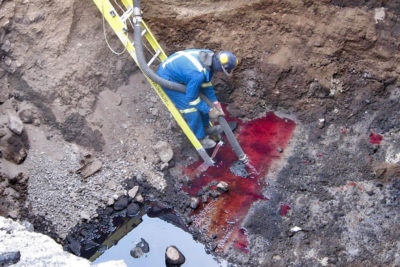 In-Situ Remediation of subsurface pollutants is the preferred method for cleaning up contaminated industrial sites around the country. Previously, entire areas were excavated and the waste transported to hazardous waste dumps. Costs associated with these operations are enormous. Vertical vacuum wells were subsequently used for clean-up at these sites. Later developments showed that placement of horizontal wells by directional drilling was more effective in cleaning larger areas. Typically one horizontal well can be placed for every six vertical wells. Infratech offers a full range of services from install only to turnkey design-to-build.
 
Well Design
Infratech assists customers in well design and selection of materials for optimal performance in remediation of contaminated sites. Several options exist which allow for a balance in cost and effectiveness. Professional Geologists and Engineers are available to review feasibility of your project as designed or to design the project from scratch. We offer input into preferred methods and materials, health and safety plans, and construction implementation.
 
Placement of Horizontal Wells
Infratech brings experience to environmental well installation. Our HAZMAT trained crews know the challenges and dangers associated with contaminated sites. Infratech crew experience makes the difference. Crews not only have installed millions of feet of underground utilities by directional drilling, they understand that perfection in operation is mandatory in constructing systems at contaminated sites. Well development and hookups can be performed by Infratech for a complete project.
 
Soil Sampling
Assessing contaminated areas can be a very challenging endeavor. Infratech utilizes technology which allows soil sampling over long distances. Well design and remedial action can then be determined.